Wesley Church
The history of Wesley Church traces all the way back to the voyage of the "Tranby", which sailed from Hull, England, carrying 37 pioneers bound for the Swan River Colony, arriving in Fremantle on 3 February 1830. One of those early pioneers, Joseph Hardey, conducted a thanksgiving service on the beach, laying the foundation for the beginning of the Methodist Church in WA. Hardey became the spiritual leader of the group, conducting the first Methodist Service under a jarrah tree on Hay Street (commemorated today with a plaque on the footway) and after four years of open air worship, it was decided to build a permanent chapel. A block of land 40 feet long and 80 feet deep was obtained from James Inkpen in Murray Street. With no minister to guide them, the colonists met the cost of the chapel by offering £2 shares and consequently when the 24ft x 15ft building was opened on 22 June 1834, it was known as the 'Subscription Chapel'.
Within a short period of time, the Chapel became too small, and a second Chapel was built, accommodating around 400 people, with the opening service held on 3 January 1841, called the Centenary Chapel (photo below), in memory of the centenary of John Wesley's conversion.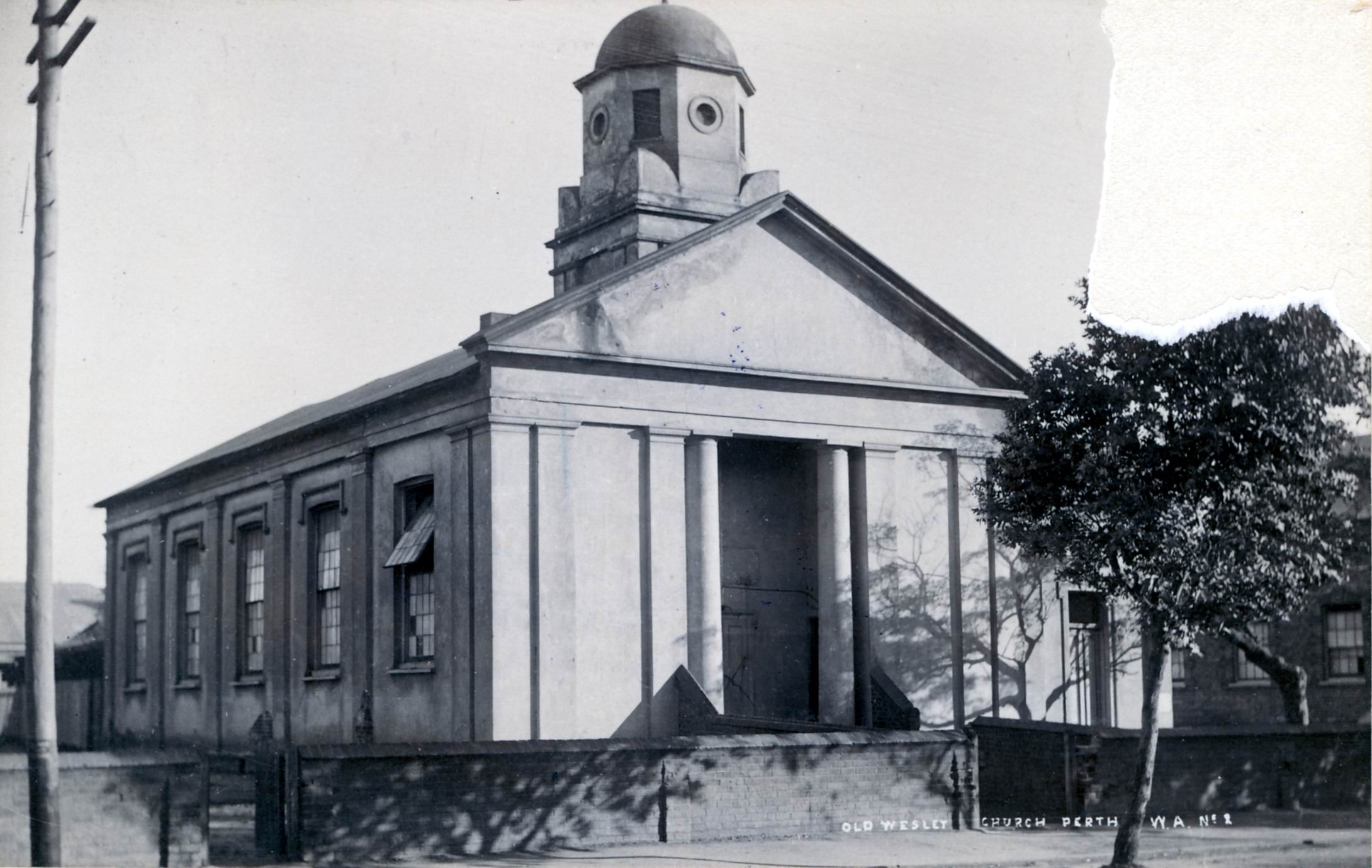 The foundation stone for the present building was laid by Governor Hampton on 25 October 1867, a bottle containing news of the day was deposited in the wall cavity and the Governor was presented with a silver trowel. Just under three years later, the church was opened on Sunday 10 April 1870. The total cost of the building was £3,000. Within 30 years, the church was further extended with the erection of galleries, a south-east tower porch and a porch on the north-east corner. In later years a pulpit was placed in the centre of the chancel as a memorial to the fallen in the Great War.
Today, in Wesley Church, we have an edifice which still stands to the glory of God and remains a silent tribute to those whose faith and courage raised it up and to all who, coming after them, have hallowed it by tender care, devotion and dedication.
Click here to view a gallery of photographs from the archive.
More information about Wesley's history is available in A brief history of Wesley Church, Perth and A walk around Wesley.