Meet our Wesley Music Scholars!
AARON DUNGEY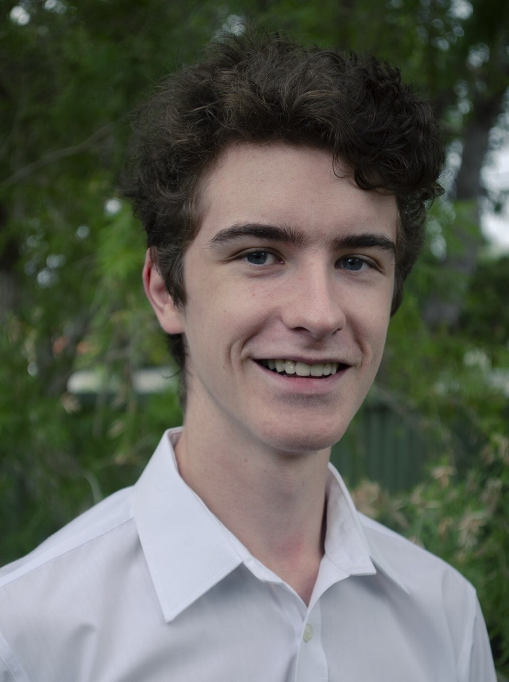 Hello Wesley Uniting Church!
My name is Aaron Dungey and I am in my second year of the specialist music course at UWA. I started off playing violin at around the age of 7 but then switched to playing viola upon my acceptance to Churchlands SHS in year 8. I have to say it was a rather begrudging change but I soon learnt to love the viola and now I wouldn't change anything for the world.
I really love playing chamber and orchestral music more than anything else and so my aim is to become a professional orchestral musician one day. Because of this, I really appreciate the opportunity to be able to perform for all of you and gain the performance experience that will come with that. When I'm not playing viola, although nowadays that is most of what I do, I enjoy playing sport with my friends such as hockey, soccer, cricket and ultimate frisbee. I also love camping and hiking, and finding every opportunity to appreciate the splendour of Gods world. I also attend North Beach Baptist Church and I find that music helps me to engage with the Lord. I hope that in performing to you all, you might do the same.
Hoping you're all well and looking forward to playing for you all.
Listen to Aaron here
DOMINIQUE REES
I am currently in my third and final year of the undergraduate degree at UWA. My plans for the future are still uncertain, however I am aiming to continue my training in Melbourne next year or to carry on with my post-graduate degree here at UWA, it is very difficult to decide given these rocky circumstances.
I find inspiration to play music in many things. I really love to practice the flute and to really dive deep into the ins and outs of the music I am playing and the technical intricacies of the flute. Ultimately, I think the main thing that has really sparked my passion and joy for playing the flute is playing with others. It is a really unique experience to play and connect with the people who are equally as passionate as you, either in a chamber music setting or a whole orchestra and I find the whole process - rehearsing, discussing different ideas and performing, really exciting and enjoyable.
I think this opportunity to perform regularly is going to be really helpful for me and my development. I am hoping to discover a new confidence in my playing and my performing and to develop my own unique way of sharing music. I am excited to pick and learn new repertoire as well as revive old repertoire that I have loved, and to share this with the Wesley community.
Outside of playing flute, I love to teach it. I have a few students, young and old, who I have really enjoyed teaching these last two years.
Listen to Dominque here
MIAH SMITH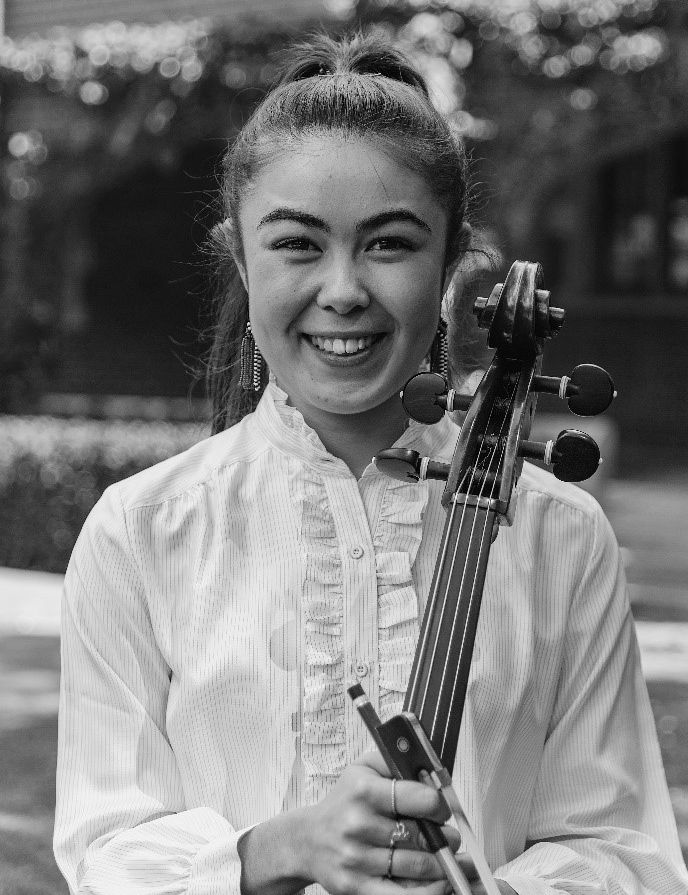 I am currently in my third year of studying Music Specialist at UWA, and have loved performance and music making for my whole life. I'd like to bring to the Wesley community my own love of music and the amazing cello repertoire that is available, to share music with everyone, and hopefully be able to connect with new friends through my music. In all of music, chamber music is also one of my favourite genres of music, I think the experience and atmosphere created between players working and making music together is so cool and inspiring. I think practicing performance in front of an audience is so important, and the Wesley performance opportunities provide the perfect opportunity for the performers ourselves as well as the audience to experience a shared journey. This opportunity also lets the performers build up confidence when performing, which would help me greatly for the career that I would like in music performance, either in chamber groups, orchestras, or solo. Other than music, I really enjoy going to the beach with my family, traveling down south, going for walks, and more recently, cooking!
Listen to Miah here
NAOKO UEMOTO
Hi, my name is Naoko and I am in my second year of study on saxophone at UWA. It's been 6 years since I blindly chose to learn the instrument for high school, and I could not be more glad that I did. I am so excited to be part of the Wesley program and have the opportunities to become more involved with the community. I think there's so much to take away from being actively involved with others and communities - whether it's to do with music or not! I love hearing from different people with different backgrounds and experiences.
For most of my musical journey so far, my favourite moments have related to playing/singing with other people, as well as music's natural tendency to let you form strong connections with others. I love thinking of performance and listening opportunities as a way to build my musical library of expression, interpretation and style.
Outside of music, I love listening to podcasts (especially on history, but I think they're all interesting), finishing a good jigsaw puzzle with my family and going down to the beach. My second passion for human rights (music being my first) has been growing, and I would like to become more involved in advocating or supporting organisations that value human rights at their core. Combining these two passions and improving the musical experience of disadvantaged populations is something I want to work on in the future.
I am really looking forward to meeting everyone and everything involved in the Wesley community!
Listen to Naoko here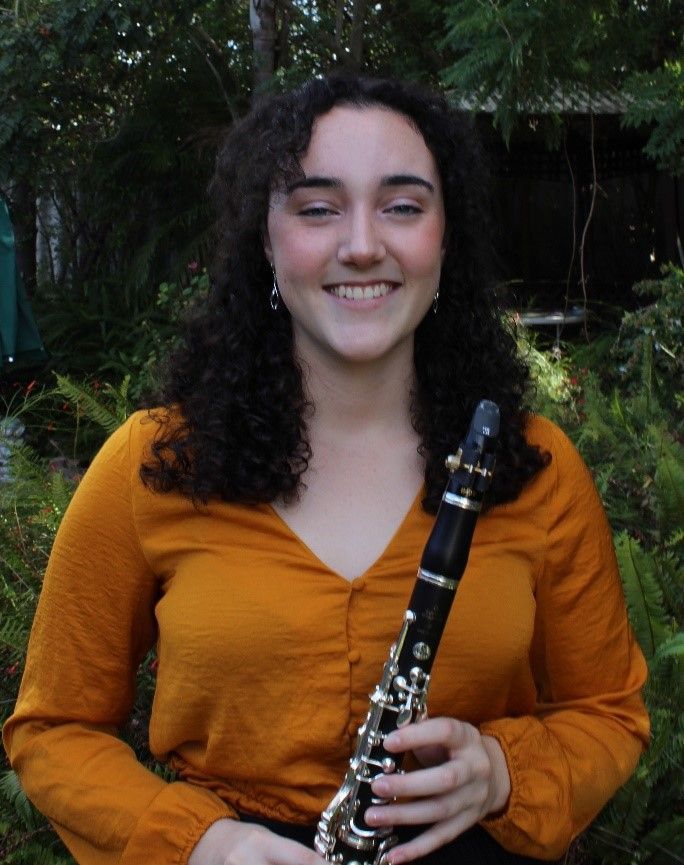 CLARE WATERS
My name is Clare Waters and I'm in my second year of study at the UWA Conservatorium of Music. I've been learning the clarinet for nine years, and grew to love it in the past five years to where I now can't get enough of it! Music has always been a part of my life, as my parents met through playing in a band together, and through this I've experienced many different styles of music.
I'm so excited to be performing for the Wesley Church, and my ultimate dream with the clarinet is to become an orchestral player. Outside of music, I enjoy reading and creative writing, and I'd love to write a novel someday.
Listen to Clare here
ELENA WITTKUHN


I'm currently in my second year of music at UWA. My ultimate goal is to perform, and I've also recently started enjoying teaching. Surprise surprise, I'm in love with the Bach cello suites and a host of Baroque chamber music, but also find the Romantics and Modernists so exciting to play-- and with new music coming up all the time, there's really never a boring moment!
Throughout my course so far I've felt my love for playing and pride in the community flow overwhelmingly. I feel like every person has, and can have, such a personal, unique connection with any given instance of music, and it's a privilege that I can be witness to that when I listen and perform. Now with the opportunity to regularly play at service, I am honoured to hope that I may even be a little part of those moments for many of you!
I've been learning a lot from my cello teacher [Suzanne Wisjman]. My favourite piece of advice from her that always sticks with me is "cool head, warm heart". Though this is meant to be about remembering technique when playing, I can't help thinking how apt that mindset seems for a time like this, when fear can too often cause the opposite response-- "warm head, cool heart". My faith journey is also a key part of my life, and music has always served to nourish it. Personally I feel that there is no more important time to keep playing and keep listening—keeping us grounded in hope, our heads cool and our hearts warm. So, thank you for welcoming me into the Wesley community, and offering me a platform to keep up my cello performance. In turn, I hope that I along with my fellow musicians can offer you a bit of joy, both now and in the brighter future.
Listen to Elena here