Wesley Church Music
Director of Music – Angela Currie
Angela Currie studied Pipe Organ and Piano at the Royal Scottish Academy of Music and Drama in Glasgow and was then inspired to study organ with Naji Hakim of La Trinité Paris and Thomas Trotter of Birmingham Town Hall, England as well as choral directing with David Lawrence.
Prior to her move from Scotland to WA, Angela's music career was rich and varied. As a Recitalist, Music Tutor, Choral Director and Accompanist she had a passion for engaging with audiences as well as encouraging young people to develop their musical talent.
Angela was in demand as Director of Music/Organist throughout Scotland. She finally settled in Edinburgh where, as Director of Music/Organist to Colinton Parish Church, she would consider her 'golden years' in her Ministry of Music occurred.
This Ministry was vibrant with a passion for sharing the faith through music from the youngest to the oldest members of the church: from 'Mini Choristers (A new project set up in collaboration with the Royal School of Church Music) to choristers all following RSCM 'Voice for Life' Scheme training the musicians both vocally and spiritually. She also worked extensively with the Band, directing contemporary worship, the Choir through traditional worship and Youth Group, through musicals such as Godspell and Jesus Christ Superstar, all raising the standard of music in worship. This Ministry played a huge part in the local community and drew folk of all ages into the church through simply engaging through this gift of music.
As an Organ Recitalist Angela has performed throughout Scotland most notably in St Giles Cathedral, Palmerston Place Church, Greyfriars Kirk and many others in Edinburgh as well as Dunblane Cathedral and Glasgow Cathedral to name but a few.
As an accompanist she freelanced with Choral Societies including performances of Carl Orff's Carmina Burana, Mendelssohn's Elijah and Handel's Messiah. As both an organist and pianist she was never out of work.
As a Choral Conductor she directed Palmerston Place Choristers (including a premier performance in the Usher Hall, Edinburgh with composer David Fanshawe and his African Sanctus), The Pentland Singers, Colinton Choristers and The Sirius Choir.
Angela was not only much in demand as a piano and organ tutor teaching both privately and at Fettes College, Edinburgh and with RSCM Scotland's 'Scottish Organists Training Scheme' but was also the Musical Director for Scottish Youth Theatre Summer Festivals.
Since arriving in Australia Angela has performed as an organist, pianist, accompanist, piano and organ tutor and Choral Director throughout WA.
She is currently Organ Tutor at Trinity College, Mercedes College and Aquinas College and Organ and Piano Tutor at Wesley College. Angela is Director of Music/Organist at Wesley Uniting Church in the City of Perth, where the Ministry of Music, through it's Music Scholars and 'Wesley at One' Recital Series has become vibrant and bringing beautiful music and outreach to the heart of the city. She is an AMEB examiner and is also Vice President to ANCA (Australian National Choral Association). As Choral Director and accompanist for the Royal School of Church Music Chorister Courses in various locations throughout the State, she again has had the opportunity, over the years, to inspire the next generation of church musicians.
When Angela isn't involved in music she can be found FaceTiming family in Scotland, spending time with her husband Jim, their two daft but adorable 'Muttleys', and as 'Mima' to two adorable grandchildren.
Music Scholars
Wesley Uniting Church, with it's history of commitment to the community and to fine music, established a scholarship programme in 2005 to provide opportunities for students to pursue their musical development. The students are given performance opportunities throughout their scholarship year. During the Sunday morning service of worship, their music is often used as a time of meditation. They also perform as part of the Wesley Recital Series and at other musical events happening in the church. Links with the scholars and the church often continue after their year with members of the congregation attending their recitals and scholars returning to perform, fulfilling the vision of 'fine music and community'. You can meet the current scholars here.
Recitals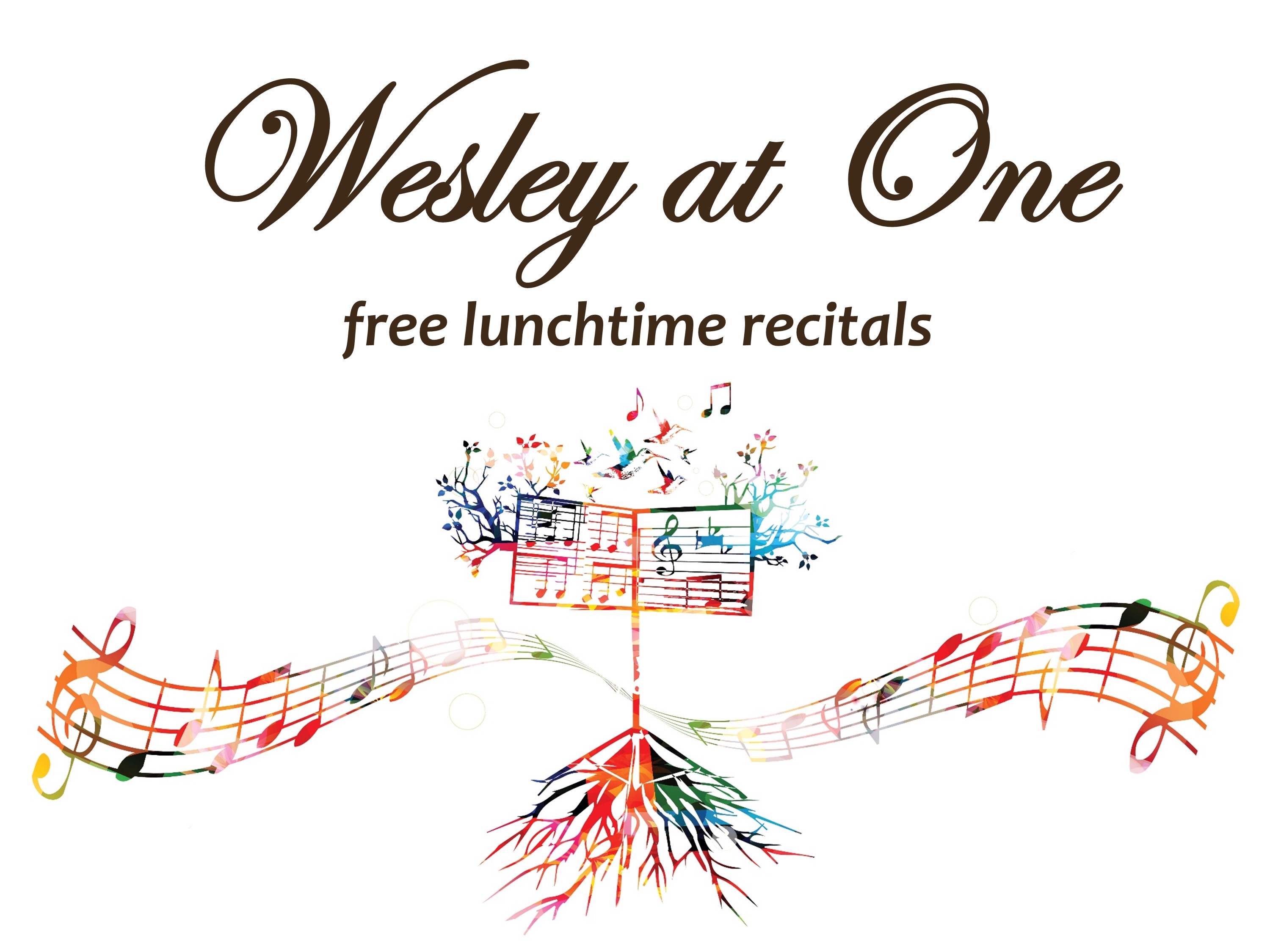 It was decided, as part of Wesley's commitment to the community and to young musicians, to promote a recital series that would encompass both. 2013 saw the birth of the idea. Beginning in September 2013, Wesley began to offer free recitals at 1.00pm on the first and third Friday of each month between Easter and Christmas. These recitals are continuing and have gathered a regular audience that come along and support and enjoy the talents of our young musicians. The recitals last for approximately 40 minutes and are followed by light refreshments, allowing time to chat with the musicians over a cuppa and a cake.
Have a look at an excerpt from one of the past recitals here: https://youtu.be/0QvND_BilHA
Choir
Wesley choir is a vibrant and faithful group of singers, who rehearse each week and provide music for Sunday Worship throughout the year (apart from January). The choir sing music from Tallis to Goodall, and everything in between. Rehearsals take place at Wesley Church each Wedesnday evening from 6pm. New members are always welcome.
Organ
For information about the Wesley organ visit www.oswa.org.au/sup/WAOrgans/Perth/PerthWesley.html